---
---
Never miss a South Windsor event again!
Sign up at
Burbio.com
or download the free iPhone or Android app and follow the calendars that interest you.
---
SimplyE
---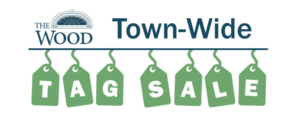 The Friends of the South Windsor Public Library will be participating in South Windsor's Town-wide Tag Sale on Saturday, August 13! A SPECIAL BOOK SALE, complete with one-day pricing, bags-o'- books, and coupons for later will be held on the lower level of the Library during regular summer Saturday hours, 9 a.m. - 1 p.m. Visitors who join the Friends of the Library on the 13th will find volunteer opportunities, an inside view of happenings at the Library, and a fine group of friends and neighbors. Please join us!
The Town-Wide Tag Sale is organized by the Friends of Wood Memorial Library and includes a variety of sales all over town. Pick up a map of sale sites at the Library after August 10.
---
Please note the Library's SUMMER HOURS:
MONDAY - THURSDAY 9 am - 8 pm
FRIDAY 9 am - 4:30 pm
SATURDAY 9 am - 1 pm
The Library is closed on Sundays from May 29 until September 11, the weekend after Labor Day.
***
WHEN OUTSIDE TEMPERATURES ARE EXTREME
,
WE ARE PLEASED TO OFFER THE LIBRARY AS A COOLING CENTER DURING OUR REGULAR HOURS, LISTED ABOVE. WHILE YOU'RE VISITNG, CHECK OUT ALL THE COOL RESOURCES AVAILABLE HERE FOR FREE!***

The South Windsor Community Center, 150 Nevers Road, also serves as a Cooling Center during their regular hours: Monday - Friday, 8 a.m. - 4:30 p.m.
If you need help due to extreme heat when the Library and Community Center are closed, please go to the Police Station on Sand Hill Road and they will help you.
---
Summer Reading for ages 18+ Is Buzzzzzing Along!
Make a Beeline to the Adult Library and sign up at either the Circulation or Information Desks! Pick up a journal, a suggested reading list and get busy. Reading, viewing and visiting can earn you prize tickets! A drawing will be held September 1, 2022 at 4:00pm. You do not need to be present to win! You may use the virtual journal at https://bit.ly/adultsummerreading2022
Pick up an additional packet for information about CT pollinators, the Passport to Connecticut State Parks and Forests program through the Department of Energy and Environmental Protection, the Belding Wildlife Area in Vernon, CT, Wickham Park, South Windsor Parks, and a list of Nurseries where you can purchase Native Plants, Gardening information.
Summer Reading for grades Pre-K through Grade 5, click here
Summer Reading for grades 6 through 12, click here
---
About masks and other pandemic changes…
Although masks are no longer required in the Library or other Town buildings, the CDC recommends that everyone---regardless of vaccination status--- wear masks in public spaces while the COVID surge continues. We ask that you consider wearing a mask during your library visits, especially in the Children's/YA area, where you are likely to encounter unvaccinated young people. We'll still provide a mask for you if you arrive without one. Our programs will continue to include both live and virtual options when possible, and we will gradually reintroduce use of our meeting rooms.
As the situation evolves, these protocols could change again.
We appreciate your patience as we all navigate each new phase of the pandemic.
---
LIBRARY PROGRAMS AND ROOM USE DURING THE PANDEMIC
Our rules for use of meeting and study rooms at the Library have changed periodically during the COVID pandemic, and this will continue until infection rates decrease substantially and social gatherings no longer pose a serious risk of contagion. We will observe Town decisions regarding pandemic protocols and will monitor public health research when determining acceptable activities in our building.
We may limit the number of library program participants or determine that "in-person" programs will be held virtually.
We may decline requests for meeting room use by community groups when the proposed activity would prevent following announced protocols.
We may cancel or postpone activities if the COVID situation worsens significantly, even if the activity was previously announced or approved.
We all share the hope that conditions will improve soon and our lives will return to the comfort we previously enjoyed. Meanwhile, we appreciate your patience and understanding as we navigate these challenging times together.
.
---
FRIENDS BOOK SALE UPDATES~
The book sale will continue inside the Library on Tuesdays, 9:15 A.M. - 6 P.M. and 9:15 A.M.- 12 Noon on Saturdays. All COVID protocols in effect at the Library will be observed at the book sale. For the safety of all, the number of people in the Friends Sale Room will be limited. Additional shoppers will need to wait their turn to go into the sale room when available.
---
Learning Express / Workforce Solutions
Includes Job & Career Accelerator--test prep, computer training videos, and much more
Start
here
---
TEMPORARY LIBRARY CARD
Click
HERE
to apply for a temporary card.
South Windsor residents can register online as a patron of our library and get temporary access to request materials and access some online sources. If you do not visit South Windsor Public LIbrary to complete the registration process within 3 months, this account will be deleted. Please bring proof of residency, such as photo ID, utility bill, or other official mail to the Library and we will then provide you with your physical Library card.
---
Coronavirus Update
Here's a link to the National Institute of Health. They are posting updates regarding the Coronavirus. Click
here
for information.
---
More Coronavirus information
You can
click here
for infromation from the CDC - Centers for Disease Control. You can also sign up for a weekly email newsletter with Coronavirus updates on this page.
---
South Windsor Coronavirus Information
To keep up with South Windsor news, check
here
---
ONLINE LEARNING
Languages, business skills, test prep, driver training and more!
Test for automobiles, test for motorcycles, cdl test
---
Please "Friend" and/or "Follow" us on our Facebook and Instagram page. Just search for South Windsor Library after you log in.
---
NEW! Reserve Museum Passes Online
CLICK
HERE
TO BEGIN
---
When the Library is closed due to inclement weather...
Overdue fines are not charged for days that the Library is closed. Book drops remain open.
In case of special closings, information about our hours and any program changes that may result is posted to our
website first
. Local television and radio stations are contacted, but may broadcast the information with a delay.
If you are unsure about venturing out in bad weather and do not see any special notices, call the Library at 860-644-1541 to be sure we are open before leaving home.
---
Try our electronic services!
Click on the buttons below to see some of what we have to offer:
---
---